2018 Lexus LC 500 Brings Luxury to a New Level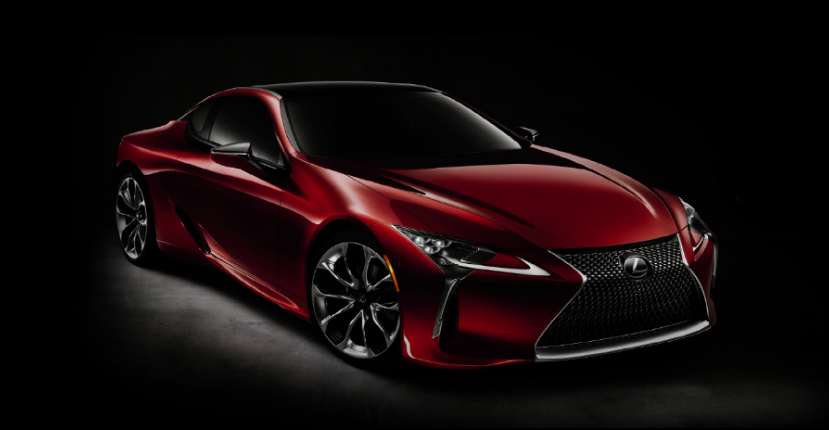 Covered in disguise tape, with its interior panels covered in photographer-foiling drapes and packed with monitoring equipment, the prototype for Lexus' new flagship front-engine, rear-drive coupe has its looks based on the handsome 2012 LF-LC concept designed by Toyota's Calty Design Research Incorporated group here in the United States. That car was described by Mark Templin, now executive vice president of Lexus, as "a sneak peek of what we're up to in the future."
The new exterior styling of Lexus cars is smooth, seamless, almost molten, proud of wheel and fender. The surfacing is exuberantly technical and insistent, impossible to ignore. The LC's styling will probably leave some of Lexus's older clients behind – and maybe also the shy ones – but the company promises the provocations are just beginning. Lexus
The 2018 Lexus LC 500 will be Toyota luxury division's flagship coupe and halo car, a V-8-powered, rear-drive 2+2 sports coupe, built on the company's new majority-steel architecture. The LC 500's brio begins with proportionals and volumes: low and wide, with a high shoulder line carved stem to stern, below the turreted cabin glass; a long hood flowing into a rakish windshield angle; and the cab-rearward silhouette, the tapering canopy, exposing the flared rear haunches.
The car's distinctive spindle grille form is restated at the rear of the car, above the exhaust-port fascia. The LED tail lamps employ one-way mirrors to create the a 3-D tunneling effect. The LC is available with a sport package that includes a rear-wheel steering system and multi-position rear spoiler.
It is powered by a 5.0-liter, quad-cam, 32-valve, all-aluminum V8, which also powers the RC F and GS F. It produces 467 horsepower at 7,100 rpm and 389 pound-feet of torque at 4,800 rpm, enough to make for a 4.5-second 0-60 time. The LC also debuts a brand-new, 10-speed automatic transmission with paddle shifters.
It's a big two-plus-two coupe, weighing (as a concept) 4,300 pounds, and is 187.4 inches long, 75.6 inches wide, and 52.9 inches high, running on a 112.9-inch wheelbase.
This car is about building the Lexus brand, plain and simple. Indeed, this is the way auto makers used to do halo cars. The LC is in every way estate grown, designed in-house and built in the clean rooms of Motomachi assembly plant by master craftsmen called Takumi.
But the LC is more than just a snazzy new V8 coupe (another drivetrain option is widely expected to be announced soon). Its significance goes well beyond its specification, since the hardware and dynamics of this big coupe are also expected to form the backbone of the replacement LS sedan models. So this is a new beginning.
The LC 500 goes on sale in America and Japan at the beginning of 2017 and in Europe later this year. Stop by Lexus of Highland Park to get a first look at the newest Lexus in the family.