Lexus LX 570 is a Premier Off-Road Luxury SUV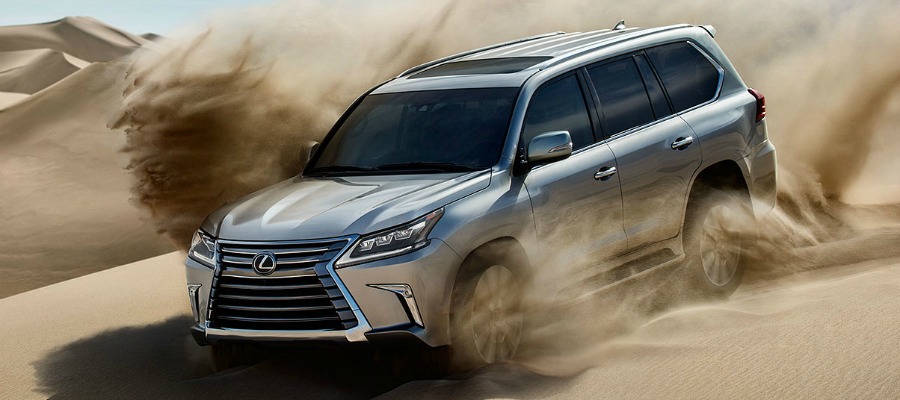 Toyota covers its bases by offering two full size SUVs that are a combination of luxury and ruggedness, albeit under two different brand names. For the adventurer, Toyota offers the Land Cruiser. For a family of road trippers, Lexus offers the LX 570.
There are few genuine off-roaders left in this world, much less those that can actually do some serious dirt work and keep you comfortable in a leather-cladded cabin with all the premium bells and whistles you want.
The LX 570's extremely capable 5.7-liter V8 engine comes standard, painlessly hauling the 6,000-pound, eight-passenger vehicle up hills, on beach roads, and for long stretches of highway. The eight-speed sequential shift automatic transmission helps propel the Lexus LX 570 with a smooth shifting experience and pick-up indicative of the SUV's large size. But contrary to what you might think, it never lags, thanks to its 383-horsepower and 403-lb.ft. of torque. The standard intelligent electronic throttle control smooths out the ride while working to improve fuel economy and emissions behind the scenes.
On the outside, the LX 570 sports an updated appearance and shows off the luxury automaker's evolving front-end look. With chrome accents and LED lighting, the LX 570 looks every bit the high-end SUV it is. The Lexus SUV has a redesigned interior with accommodations for eight and options like a dual wide-screen rear seat entertainment system and a Mark Levinson premium audio system. Furthermore, the model also has a full-time four-wheel drive, has a Torsen limited-slip center differential with manual locking, and is capable of carrying 7,000 pounds.
Other specs included in the LX 570 include a wireless charger, a cool box, a heads-up display, a Luxury Package with heated/ventilated seats, a leather-trimmed interior, a heated walnut wood steering wheel, and several other cargo accessories.
The LX 570 is the most expensive car you can buy off a Lexus dealership: a huge, body-on-frame luxury off-roader that weighs the same as the moon and promises to be comfortable whether you're driving across the highway or crawling up a big pile of rocks. Starting just a few thousand dollars more than the 2016 Toyota Land Cruiser, the 2016 Lexus LX 570 was delivered to my house fully equipped with a suggested MSRP of $97,665 (starting MSRP of $89,380) including delivery, processing and handling. Adding to the base price was the optional equipment of a wireless charger ($75), cool box ($170), heads-up display ($745), Luxury Package with heated/ventilated seats and a leather-trimmed interior among other features ($1,190), Mark Levinson audio system ($,2350), dual-screen DVD rear-seat entertainment ($2,005), heated dark walnut wood steering wheel ($150), and cargo accessories ($250).
Lexus of Highland Park has all the details and more – but nothing compares to sitting inside one of these babies. Stop by our dealership today to get some firsthand luxury treatment.