Want Great Gas Mileage? The 2017 Lexus ES 300h Is Your Answer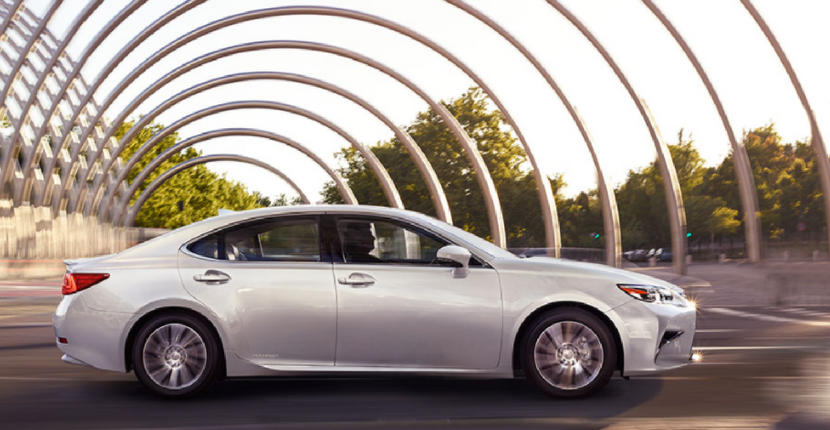 Lexus is doing everything it can to make sure its drivers enjoy the latest and greatest in modern design, including refreshing the Lexus ES. Although the automaker gave the vehicle a makeover just a few years ago, the new 2017 Lexus ES includes the most cutting edge design choices and tech upgrades we've seen in any new Lexus model for sale.
Best of all, the new Lexus ES is available as a hybrid vehicle: The Lexus ES 300h.
This groundbreaking luxury midsize hybrid sedan comes equipped with a 2.5-liter Atkinson cycle four-cylinder gas engine which combines with an electric motor rated at 105 kW and 199 lb-ft of torque. With the ability to generate over 200 horsepower, the new Lexus ES 300h will summarily smash all of your misconceptions about the supposed "inferior" power of hybrid cars.
Utilizing the nearly instantaneous torque of the electric motor, the ES 300h is able to go from zero to 60 mph in just 8.1 seconds and runs a quarter-mile in 16.8 seconds. The sedan tops out at about 112 mph but getting the vehicle up to that three-digit number will feel like a breeze.
The new 2017 Lexus ES 300h even features multiple drive modes to boost the driving experience way above anything you'll find in your typical midsize sedan. Drivers who switch into the vehicle's "sport" mode will notice a sharp performance response as the vehicle illuminates its gauge clusters with vibrant red lights and replaces the hybrid system information indicator with a tachometer. It's fun and flashy (but never gimmicky) and it's one of our favorite new features. The vehicle also comes with several other drive-boosting modes, including Eco, Normal and EV.
Best of all, the new Lexus's sportiness doesn't mean that it's impractical at the gas pump. The vehicle is a bit on the heavy side (3,682 pounds) but still managed to score EPA mileage ratings of 40 mpg city and 39 mpg highway. If you do the math, that breaks down to about 2.5 gallons per 100 miles. With the Lexus ES 300h's 17.2-gallon capacity, you'll be able to cruise for over 600 highway miles before needing to fill up again.
If those practical details don't thrill you, then remember that the 300h is also filled to the brim with new, luxurious features, including a gorgeous moonroof and 10-way adjustable power front seats. Other awesome features include a 5.1-channel surround sound DVD-audio/video system with 15 speakers, a 7-inch touchscreen infotainment system with HD radio, pushbutton start and a sound-deadener for the floor pan to ensure the most relaxing ride possible.
For more information about this outstanding Lexus hybrid vehicle, visit your favorite Lexus dealer in Highland Park. At Lexus of Highland Park, we've got 2017 Lexus ES 300h vehicles available in every color.