2018 Lexus LS First Look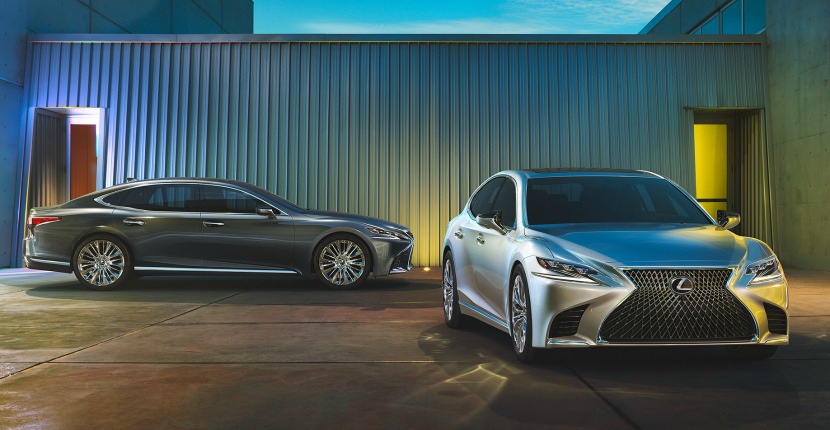 Lexus unveiled the fifth-generation Lexus LS earlier this year – but the company has saved the hybrid version for Geneva.
The Lexus LS 500h will make its official debut March 7 at the Geneva Motor Show. The model will receive a multi-stage hybrid powertrain that is available in the LC coupe. The LC500's hybrid system comprises of a 3.5-liter V-6 engine mated to an electric motor, a combination that produces a total output of 354 hp.
Unsurprisingly, the LS hybrid looks almost identical to the standard model in the teaser photo Lexus has released. We should see the same chrome-tastic body, updated spindle mesh grille, and interior goodies such as 28-way power front seats with heating, cooling, and massage functions and rear seats with special Shiatsu massage and reclining capability.
The hybrid version will be an LS 500h but it's not clear at this point what the powertrain will be. The most likely scenario is Lexus dropping in the powertrain from the related LC 500h, which delivers 354 hp. The outgoing LS 600h paired a 5.0-liter V-8 with an electric motor for 438 hp.
The LS 500h is also expected to use a 3.5-liter naturally aspirated V6, also seen in the LC 500h coupe.
The platform sibling LC 500 coupe does have an available V8 version in its non-hybrid guise, but perhaps Lexus has seen fit to equip only the sportier coupe with an eight-cylinder – a major deviation from the previous V8-only LS series bloodline. The earlier LS 600h was the first production full hybrid vehicle with a V8 engine, producing 439 horsepower; since the LC 500h's hybrid powertrain only produces 354 hp, the earlier car is likely to remain the horsepower king. The coupe still hits 60 mph under five seconds, so the big sedan should also be able to move briskly.
Almost 30 years have passed since Toyota unveiled its Lexus luxury brand and the LS 400 flagship, as the UCF10 body LS 400's design was locked in spring 1987 and the wraps came off in January 1989. The LS 400 of those days was often deservedly revered, and in the following decades it has spawned numerous new generations of high-end Lexus LS sedans. But in case the latter-day LS models have become just a touch too Camry- or Avalon-like, the 2018 version should bring a new edge.
We'll have all the details soon as Geneva auto show starts March 7. Check back with us at Lexus of Highland Park for updates!