Lexus Makes it a December to Remember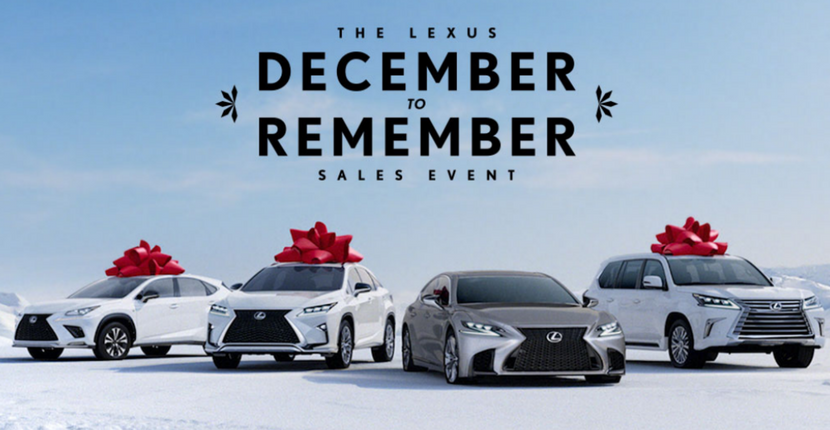 In its 18th year, the annual December to Remember Sales Event is back at Lexus! What does this mean for you? Great specials and deals, of course. But it is also your chance to experience the magic and wonder of the holidays with Lexus of Highland Park.
This year, Lexus is encouraging everyone to experience the unbridled childlike joy of the holidays. Whether it be the result of a new car, a new upgrade or service to your sedan or more time with the family, don't hold back. Get out, let your inner child loose and have some fun this season!
Just as with Lexus' "Stunned" commercial, there are more than a few things to get excited about with all of the new Lexus vehicles. From the unveiling of the LC 500 to the announcement of new entirely electric cars and the Limited Edition Lexus vehicles that are a result of the partnership with Marvel Studios, Lexus has had a busy year. And now we get to reap the benefits.
The limited time December deals range from the new 2018 GS 350 AWD for $499 a month for 36 months and only $4,999 due at signing, 2018 ES Hybrid for $409 a month for 36 months and only $4,399 due at signing, 2017 RX 350 FWD for $399 a month for 36 months and only $1,999 due at signing, 2018 NX 300 for $319 a month for 36 months and only $3,999 due at signing (plus a $500 Lexus Loyalty Incentive) and several more that include the 2017 IS Turbo, 2018 ES 350, 2018 GS 350 (AWD).
But deals like these won't last forever. In fact, the December to Remember Sales Event ends January 2!
It's no secret that December is the biggest month for U.S. automobiles sales. To compete with this end-of-year push, Lexus crafted this compelling marketing campaign to keep in the conversation and share the holiday spirit, all centered around the pure happiness children experience on Christmas morning. They're sharing the message that holiday happiness isn't just for children; it's for adults too!
"A holiday filled with laughter and fun can bring out the kid in all of us," Cooper Ericksen, vice president of Lexus marketing, said. "This year, the Lexus December to Remember campaign reminds adults that holiday surprises – such as the delight of our iconic red bow – are still possible."
With three different commercials targeting Lexus markets—dubbed "Whispers," "Dancer" and "Stunned"—Lexus is reminding everyone that it's a special time of year.
The iconic red bows are have been around since 1999 for Lexus and continue to be a holiday highlight in the auto industry. These creative advertising campaigns are proof that the Takumi designers aren't the only ones working hard to craft something compelling; everyone in the Lexus family is working together to bring the incredible line-up of Lexus vehicles to new driveways around the world.
Visit a Lexus dealer today to see what the hype is all about. If you're searching for a "Lexus dealer near me," Lexus of Highland Park is the answer. You'll find us located at 930 Skokie Valley Road. For questions about the December to Remember Sales Event in the Chicago area, give us a call at (847) 999-0095.