More than Just One Limited Edition Lexus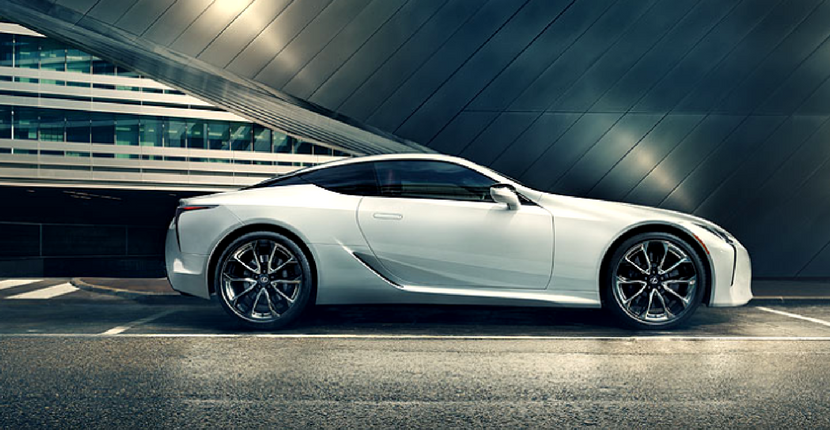 Power, performance, and prowess are just a few attributes of Lexus' newest Limited Edition automobiles. The most unique? Their origin story, embedded in the partnership with Marvel Studios—something, it seems, could have come straight from a graphic novel itself.
We first got wind of this relationship when it was announced that Marvel Studios chose the Lexus LC 500 to be featured in the Black Panther film (filmed January-April 2017, set to debut in February 2018). Bonds were made, new storylines began and friendships were forged that resulted in some amazing new automobiles.
Two new car models to be exact—the Black Panther Inspired LC concept coupe and the 2018 LC Inspiration Series production car—both of which were inspired by the new Black Panther movie.
"We're bringing our two worlds together by letting our imaginations run wild like there are no limits to what's possible," said Mindy Hamilton, Marvel's senior vice president of global partnerships and marketing. "That's what Black Panther and the nation of Wakanda represent in the film, and it's been incredible to work with Lexus as we attempt to re-create that ideology here in our own corner of the universe."­­
2018 LC Inspiration Series
The 2018 Lexus LC is the first in line when it comes to Lexus' Inspiration Series. Efforts to embody Stan Lee's Black Panther character, known in the comics as King T'Challa, went into choosing and crafting this limited edition vehicle. With incredible technological advancement, a performance that pushes on perfection and bold innovation, this highly sophisticated automobile will be extremely exclusive. In fact, only 100 are slated to be sold in the U.S.
"The Inspiration Series takes our flagship products and makes them even more exclusive and distinguished," said Brian Bolain, general manager of Lexus marketing. "Our collaboration with Marvel Studios' 'Black Panther' features a technologically advanced blue LC and was the perfect inspiration for the first car in the Series."
What can we look forward to seeing in this fascinating model? To start, a unique carbon fiber scuff plate, 21-inch forged alloy wheels and a bespoke white interior. Not to mention, the signature limited edition Barneys barware collection (or sommelier set) inspired by the vehicle's design.
Black Panther Inspired LC
What do you get when you combine Takumi craftsmanship with Black Panther's Wakandan vibranium engineering? A concept coupe unlike any others, especially when it comes to its features, which reflects its roots in Black Panther's world.
For instance, take the (mythical) vibranium—a mineral, which came from a meteorite that crashed in Black Panther's home of Wakanda and has vibration-absorbing properties. In the concept, this other-worldly element was incorporated into the car's core, resulting in a self-sustaining fueling component, and weaved into its sheet metal, creating a bulletproof body—extremely similar to Black Panther's uniform.
Its distinct design includes a Black Panther mask inlay on hood, pulsating underbody glow and a side-view mirror design based on a panther's claw, while fictitiously fascinating features include a vibranium-infused self-healing paint treatment, customized body-widening kit, system controlled by unique Wakandan B-CPU (Brain/Computer Interface) creating a symbiotic relationship between the vehicle and its driver and a remote Pilot Kimoyo Bead Interface that allows control stations within Birnin Zana to remotely drive this LC.
With these two new vehicles also comes a graphic novel from Marvel Custom Solutions—"Black Panther: Soul of a Machine." Don't be surprised if the sleek and stylish LC 500 just so happens to be Black Panther's partner in the comic, with which he attempts to foil a villain's plans to infiltrate Wakanda's systems.
While you may not be able to buy these vehicles today (or ever, in the case of the fictitious features of the concept), the Takumi craftsmanship and Black Panther parallels (of innovation, inspiration, and sophistication) lives within so many of Lexus' 2018 models for sale. Don't search for a "Lexus Dealer Near Me," just call or come visit us at Lexus of Highland Park, your certified Lexus dealer.