Lexus Style Redefined in the 2018 Lexus LC 500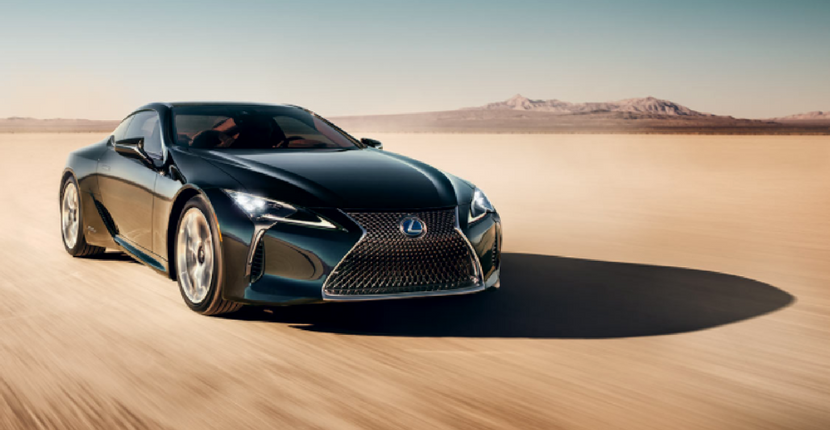 The 2018 Lexus LC 500 is a showstopper. It is stunning proof that Lexus is not just here to deliver their legendary reliability, but capable of crafting a car that will resonate with a whole new set of buyers. From the bold LF-LC Concept Car that debuted five years ago, this new low-bodied LC grand tourer turns heads and shows that Lexus can redefine their style and expand their market.
Available in eight different colors, the LC 500 is dynamic and dramatic, inside and out. From the sculpted sports seats featuring Alcantara inserts to the incredible leatherwork, the interior of this vehicle trumps its competition in terms of comfort and brings luxury to a new level in every impressive inch, showing off flawless craftsmanship.
Take the steering wheel, for example, which not only features four different types of leather but also has beautiful stitching that was carefully crafted to improve grip and reduced fatigue. While the high-back design of the front sport seats took over 50 prototypes to achieve, countless hours of testing went into the elliptical shape and design of the steering wheel.
It's this attention to detail that deemed the LC 500, and the Takumi masters behind it, trendsetters at the 2016 North American International Auto Show, where it picked up two EyesOn Design Awards for Design Excellence: Production Car and Interior Design.
With taillights inspired by the glow of a jet's afterburners, a hood made to be as thin as possible and enhance the elegant and aerodynamic lines that shoot out from the spindle grille, the 2018 LC 500 is creating a new class Lexus has yet not seen. It has all the reviewers raving, praising the perfectly proportioned shape and bold style.
Slide into the cockpit of this confident coupe and be transported in a progressive Lexus that proudly stands up against Ferrari 488 Spider and the Aston Martin DB11. Experience luxury in every feature and facet, from the touch-activated dome lights to the dashboard with a digital gage cluster that changes based on what driving mode you're in (comfort mode, sport, sport plus, etc.).
It's no wonder the LC 500 is featured in Marvel Studio's Black Panther—the LC took everything loved in the concept car and brought it right to Lexus of Highland Park, where it is now available to buy. If this is just the start of a new era for Lexus, we here at the Lexus of Highland Park cannot wait to see what's coming in the next line of new Lexus models for sale.
This is just one of the new 2018 Lexus models for sale, delivered alongside the 2018 Lexus RX, GX and LX, and rumors have it that the Lexus LC F will debut at the Tokyo Auto Show in October 2017 along with new SUVs.
Looking for a 2018 Lexus LC 500 nearby? Then come on over and visit us, a certified Highland Park Lexus dealer. Check out our inventory and get an exclusive look at the coupe that has Lexus rivaling the Maserati Granturismo, BMW 6 Series, Porsche 911, Jaguar F Type and Mercedes SL.